Our Lady of
Perpetual Help,
pray for us!
- KOUR-LP is On The Air at 92.7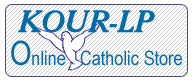 About Us
Our Lady of Perpetual Help Radio, KOUR-LP, is "Catholic Radio for the Campus Community." We hope you'll find "Inspiration from Heaven at 92.7 FM." Thank you for making this station possible through your prayers and financial generosity! Help share the Good News by telling your friends and family!
KOUR-LP 92.7 FM is a lay Catholic apostolate. Bishop William E. Franklin has been informed of our activities, and we intend to cooperate with him and with our local pastors in broadcasting radio programming that shares the truth and beauty of the Catholic faith.
Our Lady of Perpetual Help, Inc. is a nonprofit Iowa corporation. The station is staffed entirely by volunteers, and it is listener-supported. We rely on the Lord's goodness and your continuing support to remain on the air. We will need $12,000 per year for basic operating expenses.